Gantz The Game
Total weight: 1.2 GB
Tablet weight: 437 MB
Format: ISO
Language: Japanese (not included in other language)
The game is to score points by killing the aliens of each mission, your character can earn points hero, choose your team, unlock many different endings ...
The game is divided into five stages which in turn is divided in History, Battle and punctuation. Fans can enjoy the game enough especially given the end there.
Missions within the game:
Cebollense (Onion Alien)
Tanaka (Tanaka Alien)
Angry and Angry (Deva Alien)
Tadpoles (Alien Enano)
Vampires
Menu:
1.Empezar game
2.Cargar game
3.Opciones
4.Extra
Start Game: Start a new story, choose from easy, normal and hard. This changes how strong are the aliens and the strength of your attacks.
Load data: You can load a game or start over if you've already finished the game with the status you've achieved.
Options: vibration of the controller, Controls ...
Extras: There are several options DEBLOQUE as you progress through the game.
Free 1.Juego allows you to play as one of your classmates.
Mini 2.Modo Neko: passing is unlocked free play
3.Revista pin-ups: You can look at the magazine pin-ups are different, they succeeded in stage history, in the battle, between missions and unlocking endings.
4. Nicks to put the characters in Gantz:
Samurai Snob: Use the sword.
Pea Shooter: Shoot a lot without giving the target.
Dog Lover: Use the dog in all scenarios.
Neat freak: continuously attacks from afar without actually killing anyone.
Sniper: Attacking from afar.
Hero: Get hero in many ways.
Kurono Fan: Get confidence points
Messenger: Kill all the Y gun.
Despised: Suspend to help colleagues.
Loser: No gain confidence.
Womanizer: Take only women.
Puta: Get ordered around a lot (Applies to partners).
Leader: Leader Get lots of points.
Not all characters can have nicks.
5. Special film promotion.
6. Percentage of full stage.
Pictures :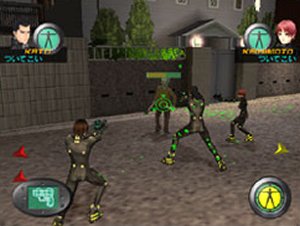 Possible End:
Final 1: Do not let anyone die. Kishimoto not leave to be with you, do not accept the appointment and do not let them die Sei Tae.
Kurono and Tae begin dating and become a couple. He has a dream in which she disappeared and when she wakes up next to him, says he does not want to be alone anymore.
Final 2: When Kishimoto come to your apartment to ask if your pet can be dila not. Do not go with Sei. Tae left to die. After killing the vampire, Kurono back home. They will think that no matter who killed him. Meanwhile, outside the apartment is a man with a sword.
Final 3: Be nice to Kato, give you many points leader. Once everything is over, Kurono thinks that a good team does with Kato. Kato says it is incredible that Kurono. Kurono thinks "is the only man I consider my friend." Gantz and run away live through this room .. with Kato.
Final 4: Be nice to Kishimoto. Estate with her but do not look in the shower. Dara many points leader. After all, will be living with Kurono Kishimoto in his apartment. He comes and finds that she has hehco dinner, but as they begin eating again Gantz. Kurono Kishimoto assures that no matter what happens, protect her and return home together.
Final 5 (unconfirmed): Do not act like a leader, and if you do option to shoot. Protects the cebollense Nishi on stage 1. Cebollense father kills with X gun and Nishi admits he wanted to see him die. Tell Sato and Suzuki that you are in trouble when Nishi help him. Use it a lot. Kill the alien chibi when you get the chance.
Final 6: (Unconfirmed) Take the dog with you on missions a few times. Become a hero to win points. In the mission of Buddha chooses to fight for yourself.
Final 7: Be nice to Hojo, ignore the girls. In the mission of Suzuki, pull the four pillars in the apartment for you to fall. In the Buddha's mission, choose to fight for yourself. Tae left to die.
Final 8: Be nice to Sakado. Ignore the other girls. Earn points hero. In the end, Sadako reunuciara Hojo and be with Kurono.
Final 9: Be nice to Sei, and when you confess your feelings, dila you want to go with it. In the end Sei Kurono takes a ride in his car as promised.
Final 10: Be nice to Togo (Sniper). In the Buddha's mission, fight with the great Buddha himself. Choose your way to re-enter the temple.
Final 11: Hero Score huge points. Tae left to die. Gantz Kurono will want to because it is important when it is there.
Final 12 (Unconfirmed): Get points leader allowing your friends to kill aliens. Tae left to die.
Final 13: Go to Kishimoto to see his other double. Kishimoto kills in the mission of the Buddha. Be nice to the original kishimoto. Tae kills, but good to others.
Final 14: Get 100 points and select option 2: A more powerful weapon.
Final 15: Get 100 points and choose option 1: leave the apartment.
Final 16: Get 100 points and choose the option??
RapidShare:
[url=http://adf.ly/246619/http://rapidshare.com/files/245042424/Ps2-Gantz.TheGame.part1.rar ]rapidshare.com Ps2-Gantz.TheGame.part1.rar [/url]
[url=http://adf.ly/246619/http://rapidshare.com/files/246168024/Ps2-Gantz.TheGame.part2.rar ]rapidshare.com Ps2-Gantz.TheGame.part2.rar [/url]
[url=http://adf.ly/246619/http://rapidshare.com/files/247087803/Ps2-Gantz.TheGame.part3.rar ]rapidshare.com Ps2-Gantz.TheGame.part3.rar [/url]
A Guide to DVD Recording:
Once you download all three parties you double click to the First Party and decompressed Three Opening Nero (recorded at minimum speed). After Burn
Use it and Done.